Di pos penjagaan Wutung: Indarwati Aminuddin, Budi Setiyono, Angella Flassy dan Husni Said (dari kiri ke kanan). Rolando Ondi (
baju kuning
) berdiri depan pos.
Bagaimana
melihat sebuah desa dibagi dua negara?
Aku merasakan ini di Wutung, sebuah desa di perbatasan Papua dan Papua New Guinea. Pada 5 Mei ini, bersama Indarwati Aminuddin (
baju putih
), Budi Setiyono (
celana blue jeans
), Angella Flassy (
kedua dari kanan
) dan Rolando Ondi (
baju kuning
), aku pergi ke Wutung.
Kami naik mobil dari Jayapura selama dua jam. Desa indah. Sepanjang jalan hutan lebat. Kami sempat beli makan masakan Jawa di satu desa transmigrasi, Koya Timur, dimana nasi bungkus berisi nasi, mujahir goreng, lodeh.
Angela mengatakan di Papua sendiri ada 265 bahasa. Ia banyak cerita soal keragaman etnik dan bahasa Papua selama kami jalan.
Ketika memasuki Wutung dari sisi Papua, kami bertemu dengan pos jaga Satuan Tugas Yon Infanteri Linud 432. Mereka bertugas di daerah perbatasan ini sejak November 2004. Salah seorang tentara mereka, Husni Said, ikut berfoto dengan kami.
Batalion ini asal dari Maros, Sulawesi Selatan. Ada 14 orang yang bertugas di pos ini di bawah pimpinan Letnan Satu Irvan Tarigan. Kami bercakap-cakap. Tarigan baru umur 27 tahun. Ia lulus dari Akademi Militer Magelang tahun 2000. Mereka pernah ditugaskan di Lamno, Aceh, pada 2002-2003.
Kesan penugasan ini?
Semua bilang "sepi" karena jauh dari keramaian. Setiap hari satu prajurit dapat jatah makan Rp 15,500. Ini jumlah yang kecil untuk ukuran Papua. Makannya, kata Husin Said, tiap hari ya berputar soal Super Mie, ikan teri dan telur.
"Yang sederhana, yang praktis," kata Tarigan.
Sebulan sekali mereka "turun" ke Jayapura untuk telepon keluarga di Maros.
Air minum ditampung dari air hujan.
Batalion ini terdiri 450 orang dan dibagi tiga kompi: Kompi A disebut Ajax, Kompi B disebut Beruang dan Kompi C disebut Camar. Tarigan bilang beda tugas di Aceh dan Wutung adalah di Aceh tugasnya adalah "tugas tempur" sedang di Wutung "tugas teritorial."
Daerah ini juga termasuk daerah Mathias Wenda dari Tentara Pembebasan Nasional Papua Barat. Wenda dulu sempat dipenjara oleh Papua New Guinea di Vanimo --kota kecil sekitar satu jam naik mobil dari Wutung. Ia terbukti bersalah karena melatih pasukannya di "negeri asing." Suratnya dari penjara Vanimo pada April 2001 berbunyi:
"We are fighting against neo-colonial power at this level of human civilisation. We are struggling against our common enemy, the enemy of all human beings on earth, "the monster-capitalism" that had destroyed our planet badly. If we let it plundering in Papua land, our next generations will curse us for not leaving them just a piece of land on earth with original inhabitants, be it forests, be it humans, be it natural resources, be it animals. They will cry and swear against us for not leaving them forests for their planet's source of oxygen.
We are fighting against imperialism in our post-modern era. This is one part of all movements of people against injustices, massacres, massive environmental destruction and the biggest social-engineering programme in our human history ever, which not surprisingly fully funded by the World Bank and the states.
I am now imprisoned in my own land, Papua, by my own tribesman, Papuan and staying here in my own prison. Because of fighting against exploitation of my land and my people, against destruction of my ecology and ecosystem.
One this I know is this: Mathias Wenda can be imprisoned anytime with any reason, anywhere, but the movement and struggle for West Papua independence will not be arrested or imprisoned in anyway by whoever, anywhere in the world until the goal is achieved.
"
Menurut tentara-tentara Indonesia di Wutung, Mathias Wenda sekarang sudah tua dan tak kedengaran lagi. Mereka tiap hari hanya melakukan patroli. Wenda tinggal di Papua New Guinea.
Kehadiran Ronaldo Ondi, putra rekan kuliah Abraham Ondi, jadi hiburan tersendiri selama perjalanan. "Ano" --nama panggilannya-- anak yang cerdas dan banyak tanya. Mulanya, Abraham tak memperbolehkan Ano ikut aku ke Wutung dari Jayapura. Ano menangis keras. Aku beri sekaleng Coca Cola juga tak membantu. Ice Mahadi, ibunya, akhirnya memperbolehkan Ano ikut kami ke Wutung.
Ia senang sekali. Indar bergurau mengatakan, "Ano meninggalkan jejak dimana-mana!"
Maksudnya, Ano sering kencing dimana-mana!
Indar juga terpukau menjejakkan kaki di Wutung. "Umur 29 tahun, pertama kali ke luar negeri, di PNG."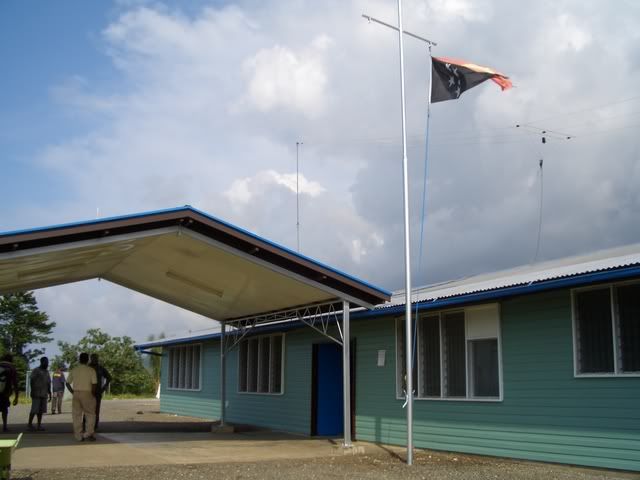 Perbatasan Papua-PNG hanya dipisahkan oleh satu daerah tak bertuan selebar 20 meter. Ia dipagari oleh dua pagar. Satu milik Indonesia. Satunya milik PNG. Gedung di sisi PNG hanya satu buah. Bendera PNG berkibar.
Gedung-gedung di sisi Papua lebih banyak. Ada pasar. Ada toko. Ada tempat makan. Ada kantor imigrasi. Kami menyeberang dari Indonesia tanpa diperiksa paspor karena memang tidak bawa paspor. Petugas imigrasi di sisi Indonesia cuma satu orang. Itu pun sedang tidur siang. Di sisi PNG apalagi. Tak ada satu petugas pun.
Beberapa orang PNG menawari kami pergi ke Vanimo. Aku bersedia tapi ongkos sewa mobil alamak! Hanya satu jam harus bayar sekian
kina
(mata uang PNG) yang setara dengan Rp 400,000. Aku tak mau ke Vanimo karena kami semua bokek. Akhirnya, cuma jalan-jalan sekitar Wutung. Desa kecil dengan bahasa sama dengan sisi Indonesia. Bedanya, disini orang bicara bahasa Inggris.
Ejaan mungkin aneh. Misalnya, ada iklan Coca Cola tertera, "
Rifresment bilong tude
."
Kau sampai jungkir balik bongkar kamus Webster juga tak tahu artinya. Ia adalah bahasa Pidgin --Inggris ala Fiji, PNG dan sebagainya. Ejaan itu setara dengan, "
Refreshment belong today
."