Ule Lheue harbor in Banda Aceh.
In early
April 2004, I visited Sabang, a small town on Weh Island, in the northern tip of Sumatra, to find out about the training facilities in the area. I went there as an emissary of the Washington-based International Center for Journalists that is interested to do some training program in the post-tsunami Aceh.
Some Banda Aceh editors suggested that I am to help organize a journalist training in Sabang. Mohd. Dim of
Serambi Indonesia
daily said it is quiet. Sabang is a better place to study and to contemplate on how to develop journalism rather than the busy and noisy Banda Aceh. I agreed with their suggestions as I used to visit Sabang in mid-2003.
Dim recommended me to take a look at the Sabang Hill Hotel, about one kilometer from Sabang's downtown area. I went there with a speed boat and took a "becak mesin" --a motorcycle equipped with a side car-- to reach the hotel.
I spent only a night in Sabang, roaming Jalan Perdagangan area, talking with some journalists and having a simple dinner of noodle soup in a Chinese shop. I had a problem with cash as the two ATM machines in Sabang did not receive both my cards. They were owned respectively by Indonesian banks BRI and BPD. Hendra Handyan of the
Serambi Indonesia
in Sabang, helped me with some IDR 100,000 or around $11 --enough to buy my boat ticket back to Banda Aceh.
I like Sabang indeed. The scenery is majestic. It takes only 45 minutes to reach Sabang from Banda Aceh. The
Baruna Duta III
speed boat leaves Banda Aceh every day at 3 p.m. The ticket price was IDR 35,000 for one trip. It returns to Banda Aceh from the Halohan harbor every morning at 8:30 am.
Ule Lheue used to be a long dock but it was destroyed by the tsunami. Now speed boats like the
Baruna Duta III
has to dock on a temporary pier. The ride is pleasant. The cabin air conditioner worked very well --it was even too cold.
Sabang Hill Hotel is located at the top of a hill overlooking the Sabang bay. It is a three-star old hotel. It is well managed. It is clean. My only problem is that it is difficult to travel from the hill to the downtown area. The food is standard and it is more tempting to test the various street vendors on Jalan Perdagangan than to have dinners at the hotel.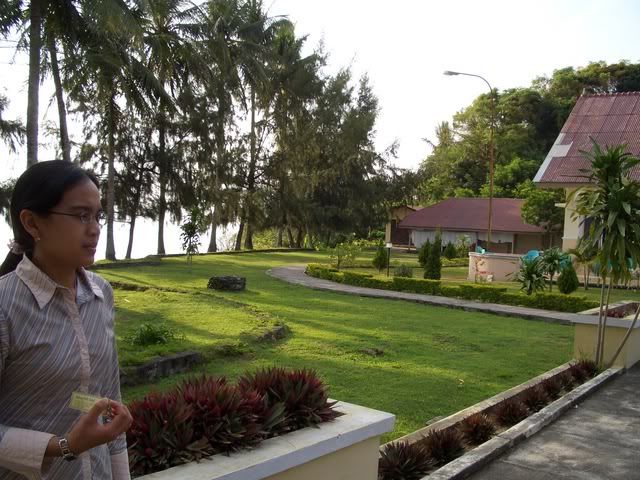 Liza Hastika, the marketing manager of Sabang Hill Hotel, accompanied me to see the compound. She said many UN workers vacationed in her hotel. They sometimes have barbeques at night in the neatly manicured garden. Hendra Handyan, the Sabang correspondent of the
Serambi Indonesia
, told me that it would be an honor for Sabang if a journalist training is to be held in Sabang. "The (Sabang) Mayor and other town leaders are more than happy to be involved in the discussions or to join the dinners," he said.
The dining room at the hotel is pretty large. It is able to manage a big function. Liza Hastika said the hotel has no other meeting room. The dining room could be arranged into a smaller room with a partition to be a training facility. Or else we could use the penthouse in the hotel.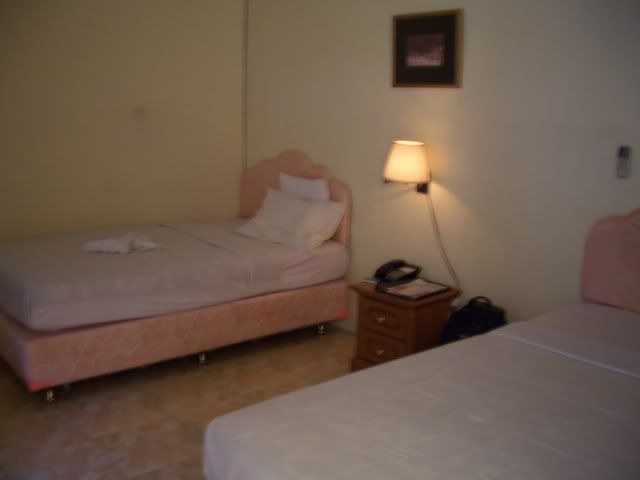 A standard double-bed room at Sabang Hill Hotel. It has five rooms like this and eight rooms each with a single queen-sized bed. The prices are between IDR 240,000 and IDR 300,000 per night or approximately between $25 to $32 per night. It also has bigger rooms. Each room has a bathroom and air conditioned.
A view of the Sabang Bay from the hotel. I arrived at the hotel just in time to enjoy the sunset. Weh Island is as beautiful as writer Aid Negoro describes in his classic "
Melawat ke Barat
" (
Visiting the West
) published in 1923. The Sabang administration preserves not only old trees but also two protected wildlife areas: Weh Island Marine Park (2,600ha) and Iboih recreation park (1,300ha). The Marine Park has coral gardens, while the Iboih park is located on the west coast of Weh Island and consists of beach and tropical lowland forests. Sabang also has a little volcano, a waterfall and a cave complex inhabited by birds, bats and snakes.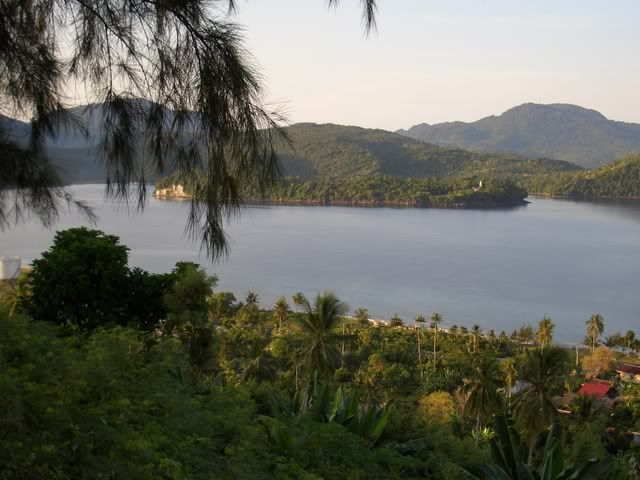 Sunrises in Sabang. I found out small monkeys playing in a corner at the large compound of the hotel. I think the training will be a refreshing experience for the participants due to the beauty and tranquillity in Aceh.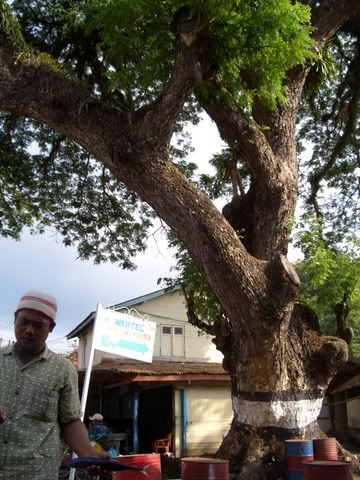 Sabang also provides giant trees. They were impressive. One of them is located on Jalan Perdagangan. Its trunk was almost as big as a small wooden hut. I estimated that its diameter was nearly two meters. In English, its name is Manila tamarind. In Latin, it is called
Tamarindus indicus
. In Sabang, people call it, "Pohon morai."