Awal Juni ini Yayasan Pantau mengadakan kursus penulisan narasi atau biasa dikenal "jurnalisme sastrawi" angkatan kedelapan bersama tiga instruktur: Janet Steele, Yudhistira A.N.M. Massardi serta saya sendiri, untuk mengampu kursus dua minggu ini.
Peserta cukup beragam, dari Jayapura hingga Banda Aceh, Singapura hingga Kupang. Kursus ini berjalan terus-menerus sejak pertama kali diadakan oleh majalah Pantau pada Juni 2001.
Ia mulanya diadakan setahun sekali namun sekarang setiap semester karena permintaan yang cukup tinggi.
Peserta belajar tentang awal munculnya gerakan "Jurnalisme Baru" pada 1970-an ketika wartawan
The New York Herald Tribune
Tom Wolfe mencetuskan ide "
The New Journalism
."
Steele juga mengajak para peserta membahas karya-karya klasik dari Norman Mailler, Joseph Mitchel, Truman Capote, John Hersey dan sebagainya. Peserta juga berdiskusi entang bagaimana menyusun struktur karangan maupun menggunakan "mesin cerita" untuk membuat pembaca tetap lekat membaca karya kira.
Istilah "
story engine
" adalah temuan Tom French tentang teknik-teknik penulisan yang memikat.
Pantau mengatur agar setiap angkatan hanya diikuti 14-18 orang. Jumlah ideal per kelas, menurut Steele, adalah 15 orang agar setiap peserta punya kesempatan bicara dan diskusi. Namun Pantau terkadang bersikap luwes bila ada peminat yang memang tak bisa menunda kesertaannya.
Steele seorang sejarahwan dan dosen Universitas George Washington di Washington DC. Ia menulis buku
The Sun Shines for All: Journalism and Ideology in the Life of Charles A. Dana
(1993) serta akan meluncurkan buku keduanya,
Wars Within
, tentang majalah Tempo di Indonesia bulan ini.
Massardi seorang novelis dan redaktur senior majalah Gatra. Pada 1977, ia menulis novel
Arjuna Mencari Cinta
yang jadi best seller dan diangkat ke layar perak. Ia juga menulis novel-novel remaja lainnya.
Angkatan kali ini cukup beragam pesertanya. Ada Yuli Ahmada (reporter harian
Surya
di Surabaya), Muhammad Yamin Panca Setia (wartawan majalah
Gatra
di Bandar Lampung), Subro (aktivis Madura di Pontianak), Fahri Salam (wartawan majalah mahasiswa
Himmah
di Universitas Islam Indonesia, Jogjakarta) maupun Ikram Putra (wartawan mahasiswa
Boulevard
, Institut Teknologi Bandung).
Subro bekerja bersama
Mitra Sekolah Masyarakat
, sebuah organisasi nirlaba di Pontianak, yang banyak bekerja memerangi rasialisme anti-Madura di seluruh Kalimantan.
Noor Huda Ismail, mantan asisten biro Jakarta harian
The Washington Post
, namanya mencuat belakangan ini karena sebagai alumnus pondok pesantren Ngruki, ia banyak menulis soal Jamaah Islamiyah. Kini ia tinggal dan bekerja di Singapura.
Winston Rondo, direktur
Center for Internally Displaced People Services
(CIS Timor) dari Kupang, juga ikut kursus ini. Rondo banyak bekerja membantu repatriasi para pengungsi Timor Timur dari Timor Barat. Ia juga mengelola buletin
Lorosa'e Lian
terbitan CIS Timor.
Asnawi Kumar (stringer
Reuters
di Banda Aceh), Cunding Levi (koresponden majalah
Tempo
di Jayapura), Saiful Haq (kolumnis dari Makassar yang juga aktivis hak asasi manusia) dan Robert Isidorus (koresponden harian
Suara Pembaruan
di Jayapura) juga datang dari tempat-tempat jauh itu ke Jakarta. Isidorus dan Levi juga bekerja untuk mingguan
Suara Perempuan
di Jayapura.
Ada lima peserta perempuan ikut kursus ini: Tarlen Handayani (penulis dan pengelola Toko Buku Kecil di Bandung), Firdanianti (redaktur khusus perbankan majalah
Swa
di Jakarta), Syafa'atun (periset dan penulis untuk organisasi riset hak asasi manusia
Demos
di Jakarta), Nani Afrida (koresponden harian
The Jakarta Post
di Banda Aceh) serta Emmy Fitri (wartawan
The Jakarta Post
di kantor Jakarta).
Steele mengatakan kelas ini sangat dinamis. Steele banyak dicecar pertanyaan. "Bahasa Indonesia saya sampai habis," katanya.
Kelas ini anggota-anggotanya sangat beragam, dari Aceh sampai Papua, dari daerah Islam hingga pulau-pulau Kristen, dari aktivis macam Subro dan Rondo hingga wartawan penuh waktu macam Nani Afrida dan sebagainya.
Saya kira mereka akan menyusul angkatan-angkatan sebelumnya yang menggunakan kesempatan kursus ini untuk isi baterai. Lalu kembali berjuang di lembaga dan daerah masing-masing.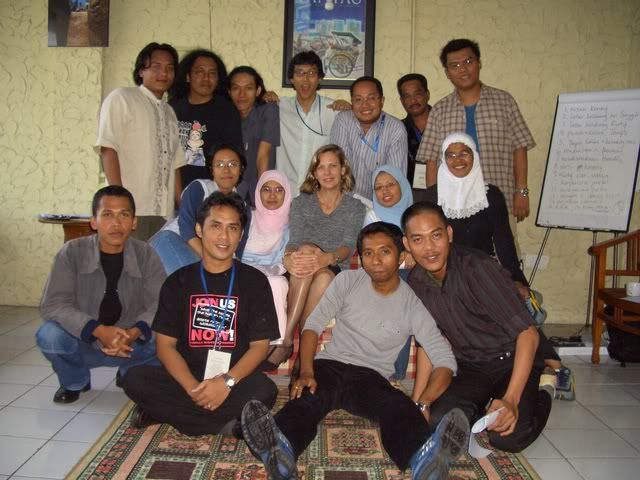 KELAS KE DELAPAN
(
berdiri dari kiri ke kanan
) Yuli Ahmada, Cunding Levi, Fahri Salam, Ikram Putra, Winston Rondo, Asnawi Kumar dan Noor Huda Ismail; (
duduk dari kiri ke kanan
) Tarlen Handayani, Firdanianti, Janet Steele, Syafa'atun dan Nani Afrida; (
jongkok dari kiri ke kanan
) Subro, Saiful Haq, Robert Isidorus dan Muhammad Yamin Panca Setia.