Pantau Foundation organized a two-week training for 15 journalists and editors of the
Bisnis Indonesia
daily this April. We talked about the usage of byline, the criteria for anonymous sources, writing skills and many other issues.
Agus Sopian and me worked as the intructors in the program. Sopian used many material from Roy Peter Clark's writing courses at the Poynter Institute in Florida. I talked mostly about Bill Kovach and Tom Rosenstiel's nine elements of journalism. The discussions were very lively.
We initially were nervous to conduct this training program. This is the first Indonesian major newspaper whose editors openly said they want to use byline, to publish featurized stories and to be a quality newspaper.
Chief editor Ahmad Djauhar told me that he had just returned from the World Newspaper Association annual meeting in Istambul. "Indonesia is the only country in the exhibition whose newspapers do not use byline."
Djauhar wants his newspaper to start using byline.
The newspaper will start using these changes next December in its 20th anniversary. Djauhar introduced the phrase "the new era" for
Bisnis Indonesia
. He showed me many international newspapers that he stores in his office.
Some Indonesian tycoons established the newspaper in December 1985. Sukamdani Gitosardjono, one of them, remains the chairman of the company today although its employees currently control more than 30 percent of the shares. It is now Indonesia's largest business newspaper.
The training program will be divided into four classes. We should do it slowly as the newsroom still has to publish the newspaper everyday right? Djauhar hopes the training will be finalized among his editors and reporters by August.
We have finished the first class and are now preparing for the second class. We plan to have more writing assignment as it is highly needed in the newsroom. They have developed a style that emphasizes on inverted-pyramid structures over the last 20 years under the tutelage of Amir Daud, a respected Jakarta editor, who used to edit
Bisnis Indonesia
in the 1980s.
I know "Pak Amir" very well. I respect his news judgement. He also knows me and is familiar with new standards that Pantau Foundation is trying to do. He cannot agree more with what we are working on with the new standards.
Nurman Jalinus, the newspaper's assistant manager on training and career development, organized the program everyday. The food that he ordered for us were delicious. I also thank Eva Danayanti, Indarwati Aminuddin and Purwoto, my Pantau colleagues who helped with the logistics.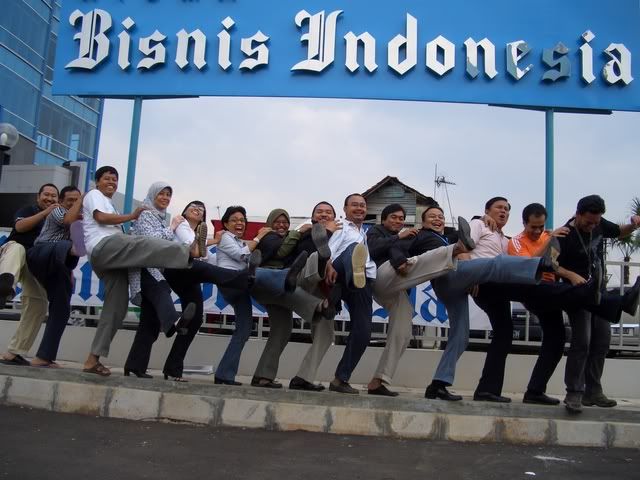 .
We held the the training program in the new
Bisnis Indonesia
office in the Karet Tengsin area in Jakarta. Laughing and chatting endlessly, especially in Agus Sopian's sessions, they posed at the end of the program outside the office. Managing editor Linda Tangdialla (
sixth from left
) said she expects the program to help bring changes in the newspaper. "I was surprised that we all came to the training at 10 am sharp even on that Friday morning," said Tandialla, referring to a public holiday this week but we agreed to keep the program.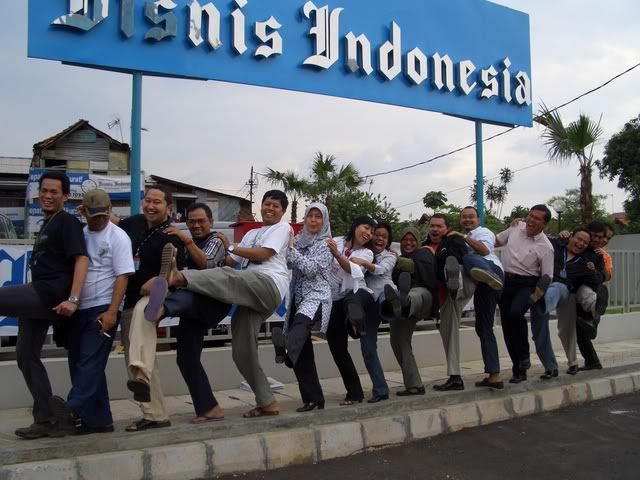 .
From left to right
: Deddy Pakpahan (
Bisnis Indonesia Sunday
), Agus Sopian (
Pantau
), Tri Dirgantara Pamenan, Endot Briliantono, Y. Bayu Widagdo, Reni Efita Hendry (Sunday), Suli Murwani, Linda Tangdialla (managing editor), R. Fitriana, Mulia Ginting Munthe (Sunday), Inria Zulfikar (desk editor), Bambang Supriyanto, Chamdan Purwoko, Erwin Tambunan and M. Sarwani (desk editor). These feet kicking scenes took place only a few seconds. They soon scrambled for balance. Gajah Kusumo was absent in this photo session.